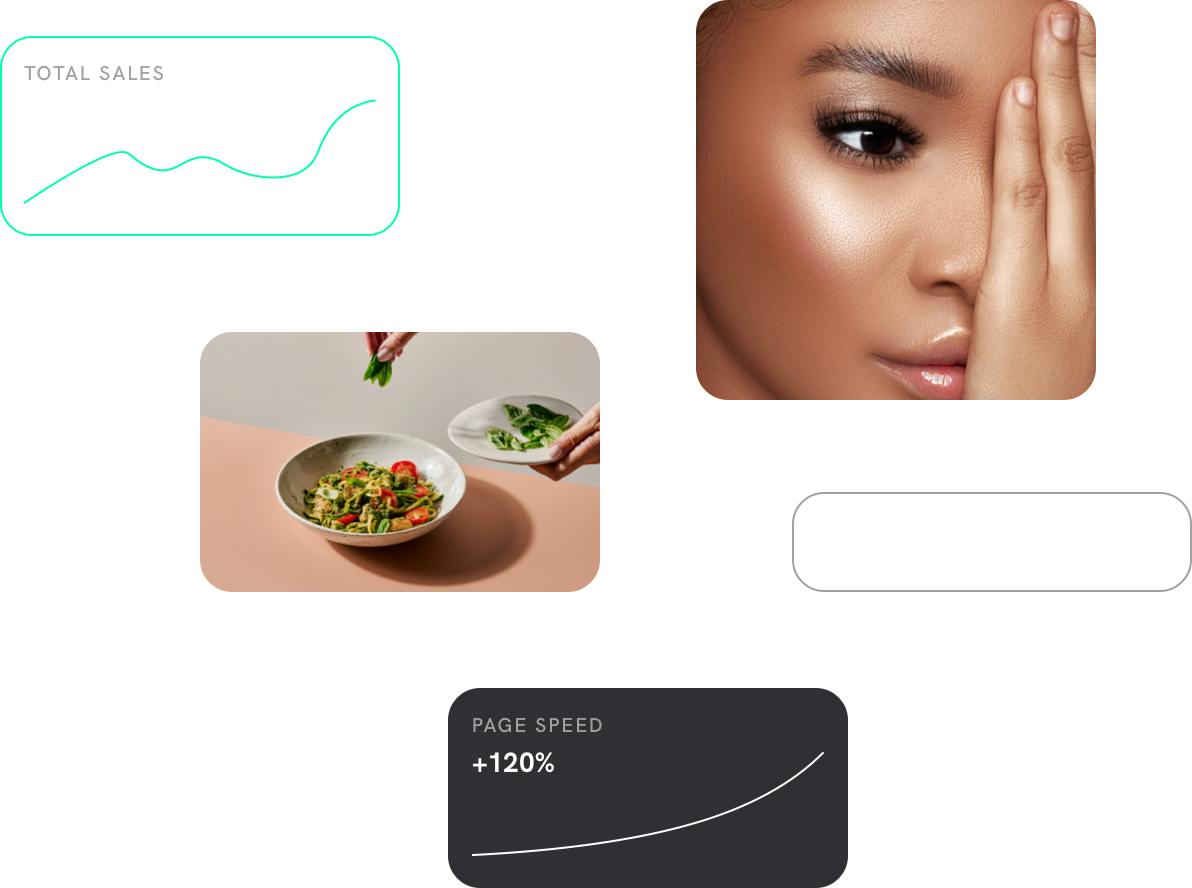 Services to elevate your Shopify Plus ecommerce offering
Seventyfour Design is a full team of technical and design experts with two decades-plus experience.
We will, end-to-end, develop and build you a tailored, business and sales-driven solution to elevate
your brand and exceed your customers' expectations.
How We Work
1

.

Learning your business

We spend concentrated time with clients to learn every inch of their business – purpose, values,
aims and audience to determine the best approach to representing your brand.

2

.

Create, build and launch your beautiful ecommerce site

We use our well-oiled project plan comprising Shopify design and developments to complete your
perfect online store. Our process will ensure optimisation for conversion, accessibility, SEO and
optimum business performance of your site.

3

.

Solidifying a lasting ecommerce partnership for success

After we deliver your website, our work continues. We give ongoing assistance to ensure your
website is fully maintained / optimised so your business remains at the top of its game.
Exceptional ecommerce experiences for top brands worldwide
CRO

Our website audit service is designed to collect data and provide you with valuable recommendations for enhancing your online presence. We meticulously examine aspects of your store, including cosmetic enhancements, User Experience (UX) optimisation, conversion rate optimisation, general Search Engine Optimisation (SEO), and speed performance, aiming to fine-tune your website for maximum effectiveness.

Design

Our dedicated design and UX team will create a captivating website that perfectly aligns with your brand guidelines. By incorporating the latest best practices and current design trends, our solutions boast stunning visuals while being optimised to boost sales. Our websites not only attract new customers but also foster long-term growth and customer retention.

System Integrations

We offer a range of services, including 3rd Party Integrations, ERP Integrations, API Development and Integration, and Custom App Development. Our expert team ensures seamless operations and enhanced efficiency, enabling your business to thrive in today's digital landscape.

International Expansion

It's a global market - so growing internationally is a must! As experts, we employ Shopify Plus to navigate through the tests and trials when growing overseas such as barriers with languages, time zones, logistics and currency. We know it and do it all for you!

Discovery

Our approach starts with an initial discussion, allowing us to thoroughly understand your requirements, and create a comprehensive proposal for you. By identifying existing pain points of your website, we tailor our skill set to bring your Shopify aspirations to life. With a clear understanding of your needs, we ensure a successful and satisfying outcome for every project.

Migration

We are a reliable and skilled Shopify migration agency, dedicated to aiding merchants in seamless migrations or replatforming from Magento, WooCommerce, BigCommerce, and other platforms to Shopify or Shopify Plus. Replatforming to Shopify demands expert knowledge, and our services ensure a safe and strategic transition. With our efficient Shopify migration solutions, you can confidently embrace Shopify and unlock its full potential for your business.

Custom Shopify App Development

Leveraging the wealth of experience of our experts, we offer a tailored and customised Shopify app strategy to enhance the functionality of your store. Our Shopify app design and development services are the perfect solution for when specific requirements crop up that you can't find in Shopify's library of apps. With our sophisticated bespoke approach, we can ensure your store gets the unique features it needs to thrive.

Maintenance & Support

In recognising that no website is ever truly finished, we function as an extension of your team, committed to consistently optimising your website and assisting you in achieving your changing long-term e-commerce objectives.
Why Us
0

+

Years' experience

Recognising the speed at which the e-commerce landscape grows, we use our extensive familiarity of the platform to keep our sites in the winning place.

0

+

Ecommerce Sites Built

Collaborating with a wide range of clients across numerous sites and solutions has equipped us with the power to create unique solutions for any industry player.

0

%

Average Sales Increase

Take the next step with our experienced team's tailored solutions. They will shift your site into the next gear.
Extremely Professional
I have worked with Seventyfour Design for numerous projects and always find Matthew and tea extremely professional and helpful. The latest project they assisted with involved a few complex integrations and requirements with linking to our ERP system to launch a new ecommerce website for my clients. I found the entire process stress free and would highly recommend them for any future Shopify projects.
Jennifer Lawson, QureMed
Top Class
Matt and team created an exceptional website that represents our core mission and values well. Their breadth of experience, willingness to listen and make changes and their ability to grasp our needs was top class and made the process simple. It allowed us to develop and collaborate with our broader stakeholders to create a website we are proud of. I highly recommend.
Frances Sanders, Nightlife
Professional, Responsive, Dedicated 
I've had the pleasure of working with Matt and team for web dev on many occasions, and I cannot recommend them highly enough. They were professional and responsive when building web apps and functionality to meet our needs. They took the time to truly understand our requirements offering valuable insights. They always answered our questions, and their attention to detail and dedication to customer satisfaction truly set them apart.
Jeff, Ride Evolve
Effortless 
I worked alongside Matthew and his team to migrate my existing WooCommerce site to Shopify. The process was effortless and the vision that I had in mind was well translated. I would definitely use Seventy Four Design for any ongoing work or for any future site builds.
Natasha Christofa, Paloma Living
Great Experience
Our experience has been great with Matthew and the team assigned to our project. Sound technical capabilities, easy with work with.
Judy Cheung-Wood, SkinB5
Excellent Communication
Seventyfour Design have completed a couple projects for us recently and we would be happy to use them again in the future. Their communication skills were excellent and they kept us up-to-date every step of the way. We were very happy with with end results and they made some recommendations of changes to our original brief that were gratefully accepted and improved the overall outcome.
Nora Gordon, Springhill Farm
Highly Recommend
I highly recommend Matthew and the team at Seventyfour Design for Shopify websites. My new site looks professional and fits well with my brand, plus the functionality and attention to detail is excellent. The team are all very responsive and helpful and they have a great system to enable collaboration. I'm very happy to have found Seventyfour Design, and look forward to continuing to work with them.
Fox Taylor, Mythic Suds
Wonderful Job
Matthew & the Team did a wonderful job in converting our website over to Shopify. It wasn't a small task either, will over 25,000 products, 40,000 + customers. The product layout was complicated by the came up with numerous solutions to suit what I wanted. I had constant numerous questions and changes and they went above and beyond as well in a timely manner. After the site launched they still provide support and the little things you notice that need adjusting.
Nicholas Jones, The Art Shop
Expertise
Matt and his team from Seventy Four Design are exactly who you need to be working with for your website design etc. Matt has looked after us for the second time and we are extremely happy and grateful for his expertise and easiness to work with. We love our new website as we did the original 5 years ago. I high recommend Seventy four Design if you are seeking the best.
Dyan Thais, Coco Willow
Just Right
Matthew and his team @Seventyfour were great to work with. We are really happy with our new site - fresh design that's easy to navigate. The team was quick to respond to our requests and happy to make the necessary tweaks to get the site 'just right'.
Emma Pender, Ausallium
Exceptional Quality 
I recently engaged Seventyfour Design to build an online store on behalf of my business, a large listed company. The director Matthew and his team were very professional, responsive and produced exceptionally good quality designs and service in general. The rates are very reasonable. I would highly recommend Seventyfour Design if you're in need of a partner who can turn things around quickly.
Robert, CSR Business Services Centre
Super Attentive 
Matthew and his team are a pleasure to work with. They are super attentive to small details and work on time. They were able to full custom build a beautiful site that we can't help but show off to people. Seventyfour Design are a recommend - no question
Eden Benito, Hub Sixty Apparel Pty Ltd
Absolute Ease
I couldn't recommend Matt and the team at Seventyfour Design highly enough. They built an incredible website with absolute ease, and it was such a pleasure to work with them. They are a highly professional outfit that I will most certainly be working with again.
Roscoe Power, Homegrown Drinks