Fresh Beauty; best in the biz
Founded in 2004, Fresh Beauty Co are locally-grown beauty specialists offering a wide range of high-quality skincare, makeup, hair care, and more.
Their team selects a carefully curated offering, making sure to include the highest quality in-demand options for like-minded beauty enthusiasts.

The team at Fresh Beauty Co are focused on providing high-end goods, while holding a strong focus on business responsibility and sustainability.
Services

Magento migration

Shopify Plus design & build

Smart collection pages

Loyalty program

Predictive search 60k+ SKU's

Expansion store - New Zealand


Technology

Shopify Plus

Klaviyo

Glowave
The team at Fresh Beauty Co came to us wanting to make the switch to Shopify. With over 60,000 products and a large loyalty program we needed to make sure this was completed with precision.

Our build needed to provide the most functional and user-friendly experience possible for Fresh Beauty's customer base, while allowing for growth ambitions, with aim to expand their store to more markets. 
Considering the large number of SKU's and existing customer base we approached this build with expertise and efficiency, ensuring that their new site was visually stunning, user-friendly, and optimised for a seamless shopping experience.
We focused on creating a site that was not only aesthetically pleasing but also optimised for performance, functionality, and user experience. Fresh Beauty Co. now has a website that meets their needs and reflects their commitment to their customers.
The migration from Magento, new site design, and build on Shopify Plus were carefully managed to ensure the smooth transfer of data and an uninterrupted customer experience. 
We incorporated smart collection pages, a highly effective predictive search function, and a loyalty program to enhance customer engagement and satisfaction.Finally, we managed the expansion to include a store in New Zealand and executed it with precision and attention to detail.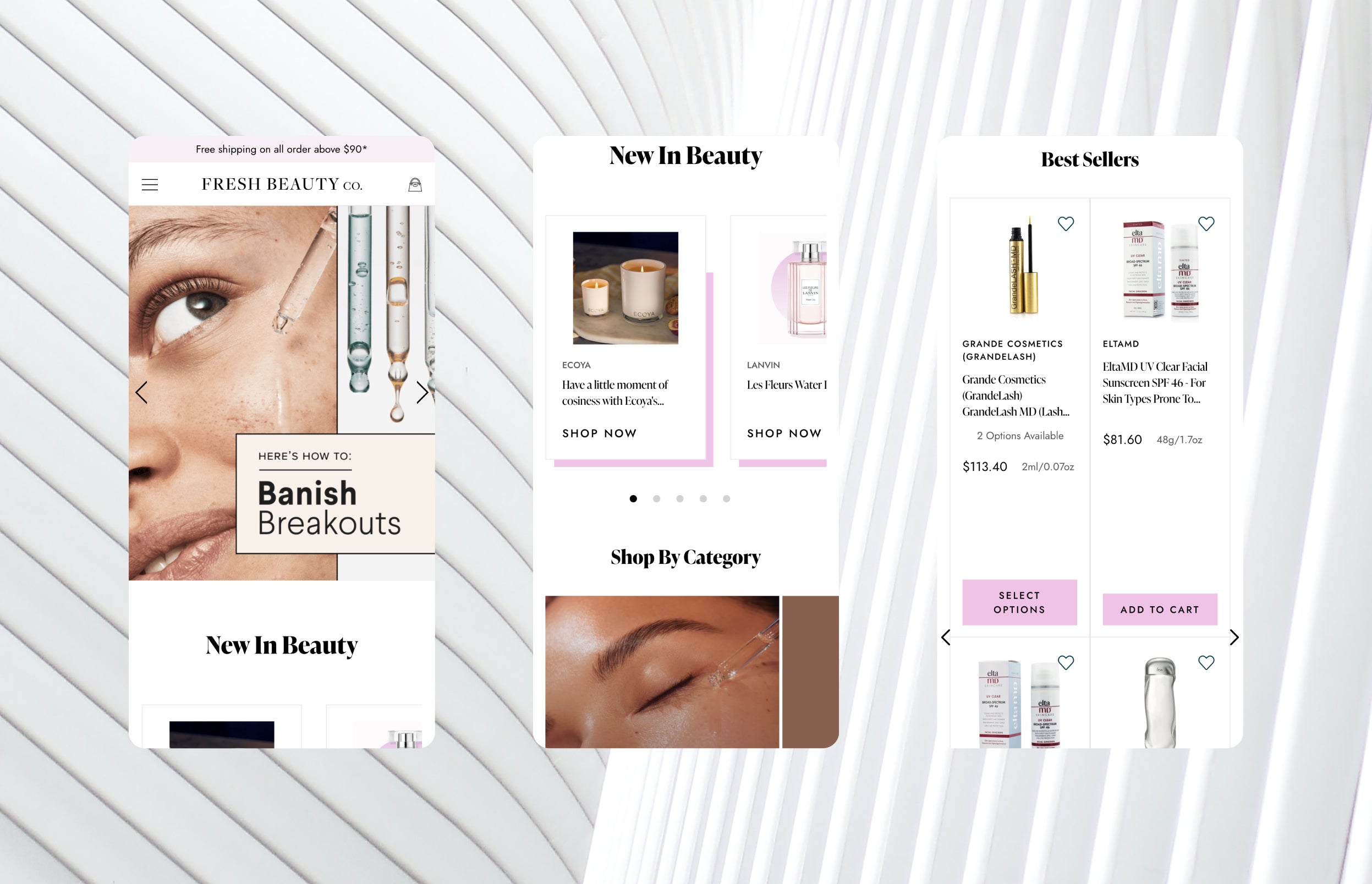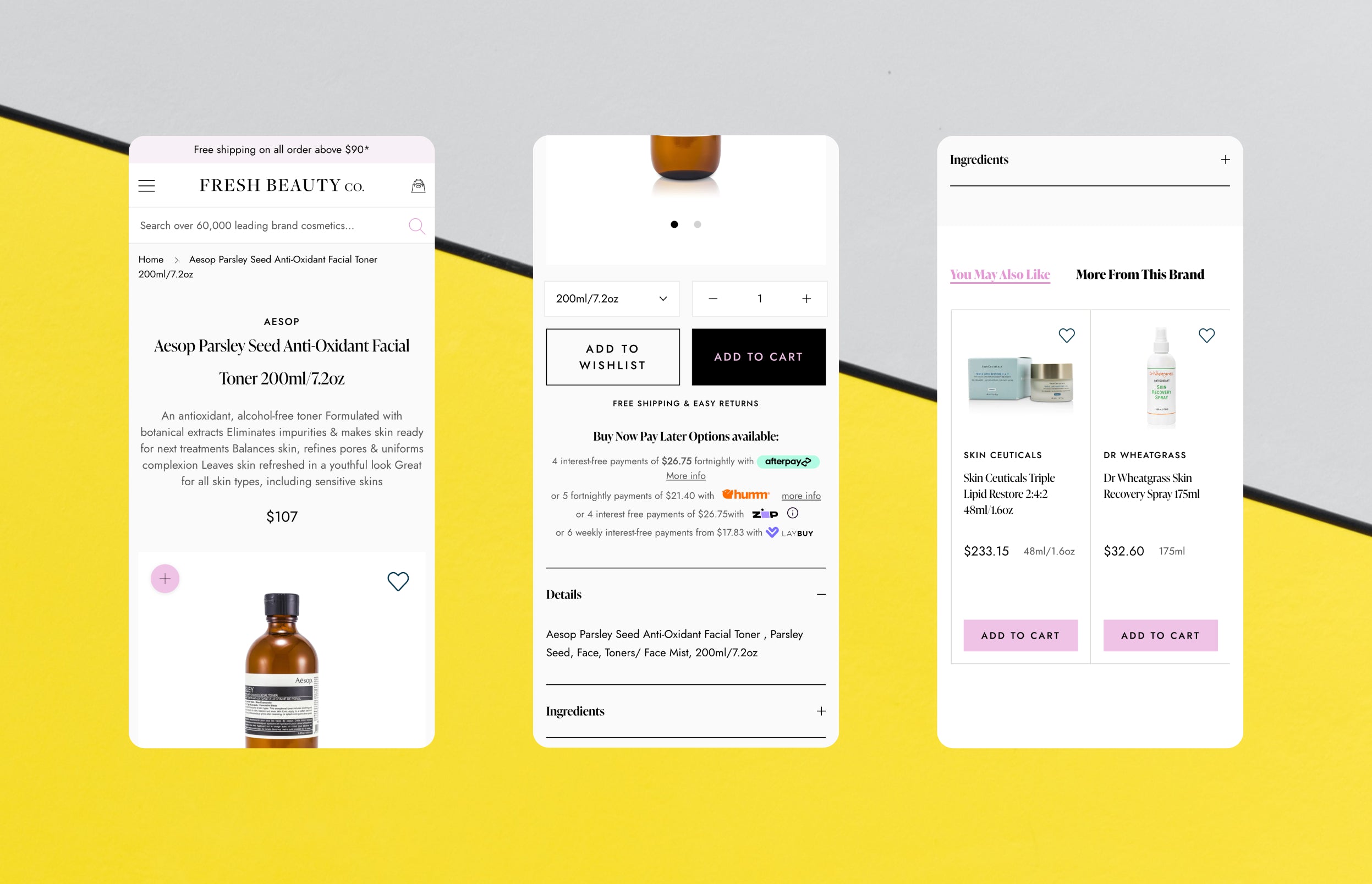 Professional, Responsive, Dedicated 
I've had the pleasure of working with Matt and team for web dev on many occasions, and I cannot recommend them highly enough. They were professional and responsive when building web apps and functionality to meet our needs. They took the time to truly understand our requirements offering valuable insights. They always answered our questions, and their attention to detail and dedication to customer satisfaction truly set them apart.
Jeff, Ride Evolve
Just Right
Matthew and his team @Seventyfour were great to work with. We are really happy with our new site - fresh design that's easy to navigate. The team was quick to respond to our requests and happy to make the necessary tweaks to get the site 'just right'.
Emma Pender, Ausallium
Extremely Professional
I have worked with Seventyfour Designs for numerous projects and always find Matthew and the entire team extremely professional and helpful. The latest project they assisted with involved a few complex integrations and requirements with linking to our existing ERP system. to launch a brand new ecommerce website for my client which would be engaging to our end users. I found the entire process stress free and would highly recommend them for any future Shopify projects.
Jennifer Lawson, QureMed
Top Class
Matt and team have created an exceptional website that represents our core mission and values well. Their breadth of experience, willingness to listen and make changes and their ability to grasp our needs was top class and made the process simple. It allowed us to develop and collaborate with our broader stakeholders to create a website we are proud of. I highly recommend.
Frances Sanders, Nightlife
Effortless 
I worked alongside Matthew and his team to migrate my existing WooCommerce site to Shopify. The process was effortless and the vision that I had in mind was well translated. I would definitely use Seventy Four Design for any ongoing work or for any future site builds.
Natasha Christofa, Paloma Living
Great Experience
Our experience has been great with Matthew and the team assigned to our project. Sound technical capabilities, easy with work with.
Judy Cheung-Wood, SkinB5
Excellent Communication
Seventyfour Design have completed a couple projects for us recently and we would be happy to use them again in the future. Their communication skills were excellent and they kept us up-to-date every step of the way. We were very happy with with end results and they made some recommendations of changes to our original brief that were gratefully accepted and improved the overall outcome.
Nora Gordon, Springhill Farm
Highly Recommend
I highly recommend Matthew and the team at Seventyfour Design for Shopify websites. My new site looks professional and fits well with my brand, plus the functionality and attention to detail is excellent. The team are all very responsive and helpful and they have a great system to enable collaboration. I'm very happy to have found Seventyfour Design, and look forward to continuing to work with them.
Fox Taylor, Mythic Suds
Wonderful Job
Matthew & the Team did a wonderful job in converting our website over to Shopify. It wasn't a small task either, will over 25,000 products, 40,000 + customers. The product layout was complicated by the came up with numerous solutions to suit what I wanted. I had constant numerous questions and changes and they went above and beyond as well in a timely manner. After the site launched they still provide support and the little things you notice that need adjusting.
Nicholas Jones, The Art Shop
Expertise
Matt and his team from Seventy Four Design are exactly who you need to be working with for your website design etc. Matt has looked after us for the second time and we are extremely happy and grateful for his expertise and easiness to work with. We love our new website as we did the original 5 years ago. I high recommend Seventy four Design if you are seeking the best.
Dyan Thais, Coco Willow
Exceptional Quality 
I recently engaged Seventyfour Design to build an online store on behalf of my business, a large listed company. The director Matthew and his team were very professional, responsive and produced exceptionally good quality designs and service in general. The rates are very reasonable. I would highly recommend Seventyfour Design if you're in need of a partner who can turn things around quickly.
Robert, CSR Business Services Centre
Super Attentive 
Matthew and his team are a pleasure to work with. They are super attentive to small details and work on time. They were able to full custom build a beautiful site that we can't help but show off to people. Seventyfour Design are a recommend - no question
Eden Benito, Hub Sixty Apparel Pty Ltd
Incredible
I couldn't recommend Matt and the team at Seventyfour Design highly enough. They built an incredible website with absolute ease, and it was such a pleasure to work with them. They are a highly professional outfit that I will most certainly be working with again.
Roscoe Power, Homegrown Drinks